Open Water Diver (Basic Course)
If you've always wanted to learn how to scuba dive, discover new adventures or simply see the wondrous world beneath the waves, this is where it starts.
During the PADI Open Water Diver course your instructor will teach you the foundational knowledge and skills you need to dive with a buddy, independent of supervision, in a safe manner.
Becoming a PADI Open Water Diver is just the beginning; as a certified diver you will venture to fabulous dive destinations, meet new people, experience wonderful adventures and discover a tranquillity previously unknown!
Prerequisite: no certification but good health, reasonable fitness and well-being in water
Minimum Age: 10
Recommended Duration: approximately 31 hours
Practical: 5 dives in Confined Water, 4 dives in Open Water
Theory: 5 Knowledge Development
Maximum depth: 18 meters / 60 feet
Centro Sub Campi Flegrei will provide you with didactic material and use of diving equipment throughout the period of the course… all included in the course fee naturally!
Offers
We are sorry but we currently have no offers.
Guestbook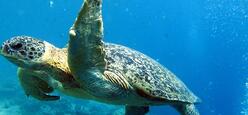 Mario e Paola
Bellissima esperienza, la Baia di Nerano è davvero fantastica!
Read All »

Weather